The Ann Beckett Award Committee is delighted to announce the winner of the Ann Beckett Award
The prestigious award has been given to Charlotte Sullivan, Amanda Carstairs and Hannah O'Leary for their excellent and innovative project The WOW Group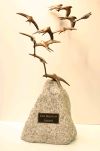 'Working together, Organising together, Welcoming new adventures together'
The WOW Group encourages children and families to be the active participants in therapy services rather than passive recipients. It captures many aspects of intervention that are not traditionally being targeted. Charlotte, Amanda and Hannah found that while occupational therapy service referrals are mostly for handwriting, motor skills and organisational skills, feedback from parent groups has shown that their main concerns and priorities for their children are in the area of self-esteem, friendships and social integration.
The WOW project was successful in supporting children to access activities in their own communities, and to engage the children in meaningful leisure occupations to support their well-being. The project achieved the goal to take the children out of the clinic setting, into the real world, and enabled children to have confidence to try new activities in their local community, to make friends, and develop communication, planning and organisational skills. Activities included horse-riding, pottery, painting, badminton, cookery, crazy golf, kayaking, stand-up paddle boarding and kayaking.  
The project included video recording activities and editing videos which were shown at the final celebration party which included parents and siblings.  Parallel sessions were provided for parents to enable them to support their children's independence in planning and organisation prior to the activities.
One of the highlights shared by participants was the obvious enjoyment of the activities and their progress. It is inspiring to see such a project which incorporates occupational therapy principals.
This is an excellent project and a worthy winner of the Ann Beckett Award.
Charlotte Sullivan, Amanda Carstairs and Hannah O'Leary are Occupational Therapists working in the HSE West Cork Community Paediatric Occupational Therapy Service based in Skibbereen.  
The Award will be presented at the AOTI Conference in October.
The Ann Beckett Award Committee would like to thank all the other applicants for their excellent projects. These projects reflect the values of the Ann Beckett Award, and follows the foundations that leaders like Ann Beckett have laid, to ensure innovative and life changing practice by Occupational Therapists. 
The Ann Beckett Award is kindly supported by O'Neill Healthcare.